[Life Style Program] Click here for more info and PDF Flyer
[Core Courses] Click here for more info and PDF Flyer
Entry Level Courses
Discover Scuba
The PADI Discover Scuba Diving program is the introduction to scuba diving in a highly supervised but relaxed manner. Under the guidance of a PADI professional, individuals learn about basic safety concepts and swim underwater with scuba in a closely supervised environment.
Open Water Diver
The PADI Open Water Diver Course teaches you all the skills you need to dive safely and independently. This fun-filled course includes theory, pool dives or confined water site and 4 Open Water Dives. Your PADI certification is valid worldwide, giving you a ticket to adventure.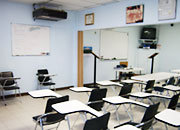 Classroom
Advanced Level Courses
Advanced Open Water
The Advanced Open Water Diver program has something for everyone. This exciting program includes a total of five adventure dives. After successfully completing the course, you'll receive the PADI Advanced Open Water Diver certification. This allows you to participate in more advanced diving activities with a maximum recommended depth limit of 30 meters/100 feet, in addition to the qualifications listed for PADI Open Water Divers.
PADI Specialty Courses
We offer a variety of specialty courses for you to gain further experience. Our professional instructors can give you experience in areas such as Deep Diver, Night Diver, Wreck Diver, Underwater Scooter, Equipment Specialist, Underwater Naturalist, Fish Identification, Underwater Photography, Underwater Navigation, Peak Performance Buoyancy, Multilevel Diver and Enriched Air (Nitrox).
[Specialty Courses]
Click here for more info and PDF Flyer
Emergency First Response Course
Emergency First Response is a basic training course in emergency care. CPR and other important emergency care skills are combined into the course, which teaches the participants to demonstrate consistency and competence when dealing with medical emergencies.
[EFR-CPR Courses]
Click here for more info and PDF Flyer
Rescue Diver
The PADI Rescue Diver course will not only expand your knowledge and experience as a diver, but you will also learn to consider the safety and well being of other divers. The course will teach you effective diver rescue skills, how to manage realistic rescue situations, increase your awareness of dive safety and encourage you to anticipate and prevent problems.
Master Diver
The Master Scuba Diving rating is the highest recreational diver rating in the PADI program and it denotes superior achievement and proficiency. To become a master scuba diver you need to complete 5 PADI specialty courses, have 50 logged dives and be qualified to at least Rescue Diver level.
[Technical Diving Courses]
Click here for more info and PDF Flyer

[Re-Breather Courses]
Click here for more info and PDF Flyer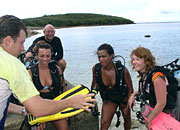 Instructor with students
Professional Courses
Guam Tropical Dive Station is committed to ensure your professional training! Our Course Director is the only Platinum Level CD in the entire Pacific Region. The Platinum Award is PADI's way of recognizing the "best of the best" in the industry. Our training is conducted at the highest level standards within the diving industry, not only can you participate in the PADI Instructor Development Course, our PADI Course Director can certify you to become a PADI EFR (Emergency First Response) Instructor, DAN Instructor, PADI IDC Staff Instructor, Specialty Instructor for 25 specialties, Visual Cylinder Inspector and even a PADI TecRec Deep Instructor. We at Guam Tropical Dive Station, look forward to serving all your professional needs. For Instructor Development Course dates and information; contact info@gtds.com
[Professional Courses]
Click here for more info and PDF Flyer

[Pro Specialty Courses]
Click here for more info and PDF Flyer
Dive Master
Divemaster is the first level of the PADI Professional ratings. As a PADI Divemaster you have qualified as a leader in the dive industry. A Divemaster certification earns you the respect of the entire diving industry for the direct role you play in supervising recreational diving activities either boat or land based and additionally for your role as an instructional assistant on any PADI courses. You have instructor level knowledge of diving theory and equipment, and are qualified to handle diving emergencies
[Divemaster Program Courses]
Click here for more info and PDF Flyer

[Super Divemaster]
Click here for more info and PDF Flyer
Assistant Instructor
The Assistant instructor program provides Divemasters with additional training as instructional assistants and dive educators. This program builds upon the abilities to organize and supervise dive activities, while concentrating on developing teaching skills.
Instructor
PADI IDC program provides a professional learning experience in which you will learn how to teach diving utilizing the most successful program in existence: the PADI system of diver education. Not only will you learn how to teach in the classroom, pool, and open water environments; you will also learn how to effectively use PADI's teaching aids and instructional support materials. When you complete our PADI IDC, you will have been trained and prepared to attend a PADI Instructor Examination (IE), the final step toward your PADI Open Water Scuba Instructor Certification.
[PADI Instructor Courses]
Click here for more info and PDF Flyer
The next IDC will start in March, with three options available.The dates for the three options are:4 Consecutive Weekends: March 6th-7th, March 13th-14th, March 20th-21st, March 27th-28th.2 Long Weekends: March 11th – 14th(Thursday-Sunday), and March 26th-28th(Fri-Sunday)1 Week Intensive: March 22nd- March 28th(Monday – Sunday)The Instructor Examination is Wednesday and Thursday, March 31st, and April 1st.For further information contact:PADI 2009 Platinum Course Director Ken Wilhelm at Cell 787 9747 / Office 477 2774 or email at trekdiver@gmail.com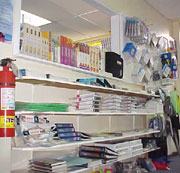 PADI Course Materials