Guam Tropical Dive Station tours are designed to accommodate everyone.  Divers can opt to go on a dive tour.  Families can opt to go on a Combo Tour.  Non Divers who would like to try scuba diving have the option to go on a Discover Scuba Diving tour.

2 Tank Boat Dive (A.M)
Every morning Guam Tropical Dive Station takes divers out for an exhilarating 2-tank dive adventure to two of Guam's most sought after dive destinations.  The boat departs the dock at 9am and returns at approximately 1pm.  The first dive of the morning will be a deeper dive, usually a reef outside Apra Harbor where the visibility is, on average, 60 – 80 feet.  The second dive will most likely be a shallower reef dive where any snorkelers on board may jump in and enjoy the scenery along with their diving counterparts.
Try Scuba (Introductory Diving – P.M.)
Guam Tropical Dive Station has a top-notch Service Department. When you Even if you don't have a diving certification card we can still show you the wonders that lie beneath the ocean surface.  On an introductory dive, we will escort you and up to three friends under water together.  You will have to perform some basic skills to show your comfort level, but after that it's smooth sailing and you will have the time of your life interacting with the creatures underwater.  Plus, if you enjoy yourself immensely, you can opt to do a second dive!
Combo Trip (Dolphin Watching Tour)
For those who are not ready to make the jump to equipment ownership, Guam Tropical Dive Station offers top quality rentals to certified divers (dive card required). These include, BCD's, regulators and weight belts. For your added convenience, both store locations are equipped with rental tanks and an air fill station.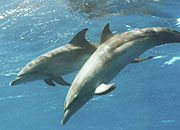 Dolphin Watching [photo courtesy of Chris Bangs]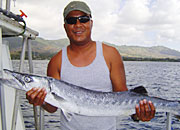 Catching some fish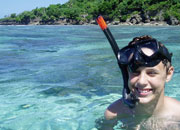 Snorkeling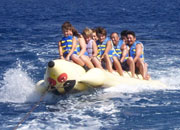 Banana Boat Ride