ABOUT GTDS
Established in 1992, Guam Tropical Dive Station has earned its title as one of the major dive centers on Guam. John and Paula Bent bought what used to be Guam Divers and renamed the store Guam Tropical Dive Station, better known as GTDS. Yasuhiro Maeda became the Company President in 2005 and expanded the tourist business of GTDS to new heights.
Where is Guam Tropical Dive Station Located?
We are located on the beautiful island of Guam. You are probably wondering where is Guam? Located in the Western Pacific, across the International Date Line at 13°28" north latitude and 114°45" east longitude. It is the largest of more than 2,000 islands scattered between Hawaii and the Philippines. On Guam there are only two seasons; wet and dry. So it is a perfect place for diving! GTDS itself is located in East Hagatna, across from East Hagatna Bay.
Store Locations:
Guam Tropical Dive Station is located at East Hagatna, so come on down for we are excited to see you and being the place for all of your diving needs.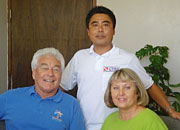 Owners: John,Paula,and Maedasan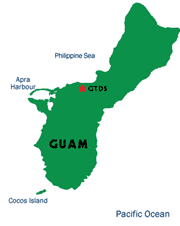 Map of Guam